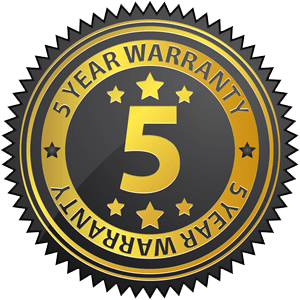 THE LUX GROUP LIMITED WARRANTY:
THE LUX GROUP WARRANTS DIRECTLY PURCHASED PRODUCTS AGAINST WORKMANSHIP DEFECTS. THE STANDARD WARRANTY PROVIDED ON NEW PRODUCTS PURCHASED FROM THE LUX GROUP OR AUTHORIZED RESELLER SUPPLIES THE CUSTOMER WITH 60 MONTHS OF COVERAGE AGAINST AFOREMENTIONED DEFECTS AND FAILURES. CUSTOMER MUST REGISTER THEIR PRODUCT WITHIN THIRTY (30) DAYS OF RECEIPT OF GOODS TO BE ELIGIBLE FOR 5 YEAR WARRANTY. ANY PRODUCT REGISTERED AFTER THE THIRTY (30) DAY REGISTRATION WINDOW WILL NOT BE ELIGIBLE FOR THE WARRANTY.
THIS WARRANTY APPLIES ONLY TO HARDWARE PRODUCTS (WATCH BODY ONLY) CUSTOMIZED OR MANUFACTURED BY THE LUX GROUP THAT CAN BE IDENTIFIED BY THEIR SERIAL NUMBER AND HAS BEEN REGISTERED WITH THE LUX GROUP. THE LUX GROUP PROVIDES NO WARRANTY FOR ANY PRODUCT OTHER THAN THE WATCH BODY ITSELF. AS-IS OR USED ITEM SALES CARRY NO WARRANTY ON THE GOLD PLATING. THE LUX GROUP PROVIDES NO WARRANTY WHATSOEVER FOR ANY SOFTWARE PROVIDED WITH ITS PRODUCTS; SUCH SOFTWARE IS WARRANTED SEPARATELY BY THEIR MANUFACTURER. THE LUX GROUP DOES NOT WARRANT ANY HARDWARE PRODUCTS THAT ARE NOT THE LUX GROUP PRODUCTS. THIS WARRANTY DOES NOT APPLY IF THE PRODUCT HAS BEEN MODIFIED WITHOUT WRITTEN PERMISSION OF THE LUX GROUP OR IF IT'S SERIAL NUMBER HAS BEEN REMOVED OR DEFACED. PRODUCT MODIFICATION INCLUDES, BUT IS NOT LIMITED TO UNAUTHORIZED ALTERATION OF THE HARDWARE THAT MAY INVOLVE DISASSEMBLY, POLISHING, AND ANY OTHER ABRASIVE CHEMICALS OR MATERIALS. THIS WARRANTY DOES NOT APPLY TO DAMAGE CAUSED BY THIRD PARTY PRODUCTS USED IN CONJUNCTION WITH A THE LUX GROUP PRODUCT; ACTS OF NATURE, A LOSS OF PRODUCT FUNCTIONALITY CAUSED BY ACCIDENTAL DAMAGE, SCRATCHES, COSMETIC DAMAGES, OR ANY FAULTS POTENTIALLY CAUSED BY THE SERVICES OF A NON THE LUX GROUP REPRESENTATIVE. SUCH DAMAGES ARE NOT COVERED BY THIS WARRANTY AND ANY RELATED REPAIRS WILL BE AT COST TO THE CUSTOMER.
ONLY THE LUX GROUP IS AUTHORIZED TO MAKE ANY MODIFICATIONS, EXTENSIONS OR ADDITIONS TO THIS WARRANTY AND RESERVES THE RIGHT TO MAKE CHANGES WITHOUT ADVANCE NOTICE (A CURRENT VERSION OF THE WARRANTY IS AVAILABLE ON THE LUX GROUP WEBSITE). THE LUX GROUP IS NOT RESPONSIBLE FOR SPECIAL, INCIDENTAL, OR CONSEQUENTIAL DAMAGES RESULTING FROM ANY BREACH OF WARRANTY, OR UNDER LEGAL THEORY, INCLUDING BUT NOT LIMITED TO LOST PROFITS, DOWNTIME, GOODWILL DAMAGES TO OR REPLACEMENT OF EQUIPMENT AND PROPERTY AND ANY COSTS OF RECOVERING, REPROGRAMMING OR REPRODUCING ANY PROGRAM OR DATA STORED IN OR USED WITH THE LUX GROUP PRODUCTS. SOME STATES DO NOT ALLOW THE EXCLUSION OR LIMITATION OF INCIDENTAL OR CONSEQUENTIAL DAMAGES OR EXCLUSIONS OF IMPLIED WARRANTIES, SO THE ABOVE LIMITATIONS OR EXCLUSIONS MAY NOT APPLY TO YOU. THE WARRANTY AND REMEDIES SET FORTH ABOVE ARE EXCLUSIVE AND IN LIEU OF ALL OTHERS, WHETHER ORAL OR WRITTEN, EXPRESSED OR IMPLIED. THE LUX GROUP SPECIFICALLY DISCLAIMS ANY AND ALL IMPLIED WARRANTIES, INCLUDING, WITHOUT LIMITATION, WARRANTIES OR MERCHANTABILITY AND FITNESS FOR A PARTICULAR PURPOSE. WARRANTY IS NON-TRANSFERABLE. WARRANTY IS FOR THE BODY ONLY, BANDS ARE NOT COVERED UNDER WARRANTY. THERE IS A REPLATING COST STARTING AT $75 FOR BANDS. CUSTOMER IS RESPONSIBLE FOR ALL SHIPPING AND HANDLING COSTS ESTIMATED $99 FOR A WARRANTY CLAIM.
THE LUX GROUP APPLE CARE PLUS WARRANTY:
SHALL EXTEND THE ABOVE WARRANTY TO THE BODY OF THE WATCH IT WAS PURCHASED FOR TO INCLUDE A MAXIMUM OF 2 INCIDENCES OF ACCIDENTAL DAMAGE (I.E. WATER DAMAGE, SCREEN BREAKAGE) DURING THE EXTENDED PERIOD OF 2 YEARS AFTER PURCHASE FOR APPLE WATCH GOLD PLATED STAINLESS STEEL OR 3 YEARS AFTER PURCHASE FOR APPLE WATCH HERMES GOLD PLATED STAINLESS STEEL. EACH INCIDENT OF ACCIDENTAL DAMAGE WILL CARRY A DEDUCTIBLE THAT IS DUE PRIOR TO SENDING THE BROKEN WATCH IN OF $299 FOR APPLE WATCH GOLD PLATED STAINLESS STEEL OR $399 APPLE WATCH HERMES GOLD PLATED STAINLESS STEEL. THIS WARRANTY CAN ONLY BE CLAIMED ON BY CONTACTING THE LUX GROUP AND IS A THE LUX GROUP WARRANTY. IF THE CUSTOMER DECIDES TO BRING THE GOLD WATCH INTO APPLE AND APPLE VOIDS THE APPLE CARE COVERAGE ON THE WATCH THE OWNER WILL BE SOLELY RESPONSIBLE FOR PAYING TO REPLACE AND REPLATE THE DEVICE AT THE OUT OF WARRANTY COST. CUSTOMER ASSUMES ALL RESPONSIBILITY FOR ANY VOIDED WARRANTY THAT OCCURS DUE TO IMPROPER CLAIM ON THE WARRANTY. PLEASE RAISE A TICKET ON OUR SUPPORT PAGE HERE TO CLAIM ON YOUR THE LUX GROUP APPLE CARE PLUS WARRANTY.
WARRANTY SHIPPING AND RETURN MERCHANDISE AUTHORIZATION (RMA):
WHEN SENDING IN A PRODUCT FOR REPAIRS, THE RMA REFERENCE NUMBER MUST APPEAR PLAINLY ON THE OUTSIDE OF THE SHIPPING PACKAGING. RMA NUMBERS CAN BE OBTAINED BY EMAILING THE LUX GROUP AT THE ADDRESS AVAILABLE ON THE LUX GROUP WEBSITE. ALL RMA NUMBERS ARE VALID FOR 7 (SEVEN) DAYS AFTER BEING ISSUED AFTER WHICH THE CUSTOMER MUST CONTACT THE LUX GROUP FOR A NEW RMA NUMBER OR THE PRODUCT IN QUESTION WILL BE RETURNED TO THE LISTED SHIPPING ADDRESS WITHOUT BEING SERVICED. CUSTOMERS MUST ATTACH THEIR NAME, ADDRESS, TELEPHONE NUMBER, EMAIL ADDRESS, RMA NUMBER AND DESCRIPTION OF PROBLEM TO EACH PRODUCT RETURNED FOR WARRANTY SERVICE. CUSTOMERS ARE RESPONSIBLE FOR SENDING THE PRODUCT VIA A TRACK-ABLE SHIPPING METHOD, THAT TRACKING NUMBER SHOULD BE PROVIDED TO A CUSTOMER SERVICE REPRESENTATIVE VIA EMAIL AT TIME OF SHIPMENT. THE LUX GROUP WILL, AT ITS OPTION, COVER ANY TRANSPORTATION FEES RELATING TO THE RETURN OF THE RMA PRODUCT TO THE CUSTOMER ONLY IF THE RETURN SHIPPING ADDRESS IS WITHIN THE COUNTRY OF THE ORIGINAL ORDER. ANY PRODUCT RETURNED FOR REPAIRS WITHOUT A RMA NUMBER WILL BE RETURNED TO SENDER, WITHOUT EXCEPTION, DUE TO FAILURE TO FOLLOW PROPER POLICY. ALSO NOTE THAT THE LUX GROUP HAS NO LIABILITY FOR LOSS OF PROPERTY ASSOCIATED WITH MIS-DELIVERY DUE TO CUSTOMER NEGLIGENCE OR FAILURE TO FOLLOW PROPER POLICY, LOSS OF RECORDED DATA, THE COST OF RECOVERY OF LOST DATA, LOST PROFITS AND THE COST OF INSTALLATION OR REMOVAL OF ANY PRODUCTS OR THE INSTALLATION OF REPLACEMENT PRODUCTS. REPAIR AND OTHER SERVICE OPTIONS FOR ALL CUSTOMIZED THE LUX GROUP PRODUCTS WILL BE MAINTAINED FOR 1 (ONE) YEARS AFTER THE FINAL SALE OF SUCH PRODUCTS.