FASHIONABLE, TIMELESS THE BRACELETS OF OUR WATCHES WRAP AROUND YOUR WRIST WITH ELEGANCE AND PANACHE. THANKS TO ITS CONSIDERABLE KNOW HOW, THE LUX GROUP CHOOSES WITH GREAT CARE THE BEST SKINS TO USE FOR THE CREATION OF SUEDE OR LEATHER BRACELETS. THESE SKINS ARE SELECTED IN FRANCE AND ITALY FROM TANNING MANUFACTURERS HAND-PICKED FOR THE QUALITY OF THEIR PRODUCTS AND THEIR EXCELLENT TANNING PROCESSES, WHICH ARE SUPERVISED FROM BEGINNING TO END RESULTING IN SUPERB QUALITY.
OUR LEATHER PRODUCTS COME FROM VEGETABLE AND MINERAL SOURCES, WITH THE ADVANTAGES OF BOTH IN QUALITY AND LONGEVITY.
THE FINEST LEATHER ONCE CHOSEN GOES THROUGH SOME SIXTY STEPS HANDLED WITH UTMOST CARE BY THE MASTER TANNER. THIS CAREFUL PROCESS PRODUCES ITEMS OF OPTIMAL QUALITY. EACH OF THESE STEPS ARE GRADED AND CONTROLLED WHICH EXPLAINS THE VERY HIGH STANDARD OF THE END PRODUCT.
THIS PERFECT PRODUCT, THE RESULT OF AN EXTREMELY CAREFUL PROCESS, IS AT THE SAME TIME LUXURIOUS, ELEGANT, COMFORTABLE, HARD WEARING AND TIMELESS TO THE DELIGHT OF ITS OWNER.
THE SAME ATTENTION TO DETAIL IS PAID TO THE CREATION OF EACH BRACELET, WHETHER THE END PRODUCT IS AN ORIGINAL SINGLE UNIT OR A WHOLE COLLECTION.
WE ARE THE ONLY CERTIFIED APPLE WATCH BAND MANUFACTURER WITH THE OFFICIAL GENUINE "MADE FOR APPLE WATCH" LUGS THAT ATTACH THE BRACELETS TO THE WATCHES.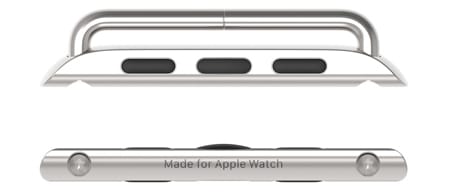 Disclaimer: Beware of cheap imitation Apple Watch Lugs and Hardware. If your lugs do not say "Made for Apple Watch" they are not genuine and could damage your watch.