Watch Bands: Band Materials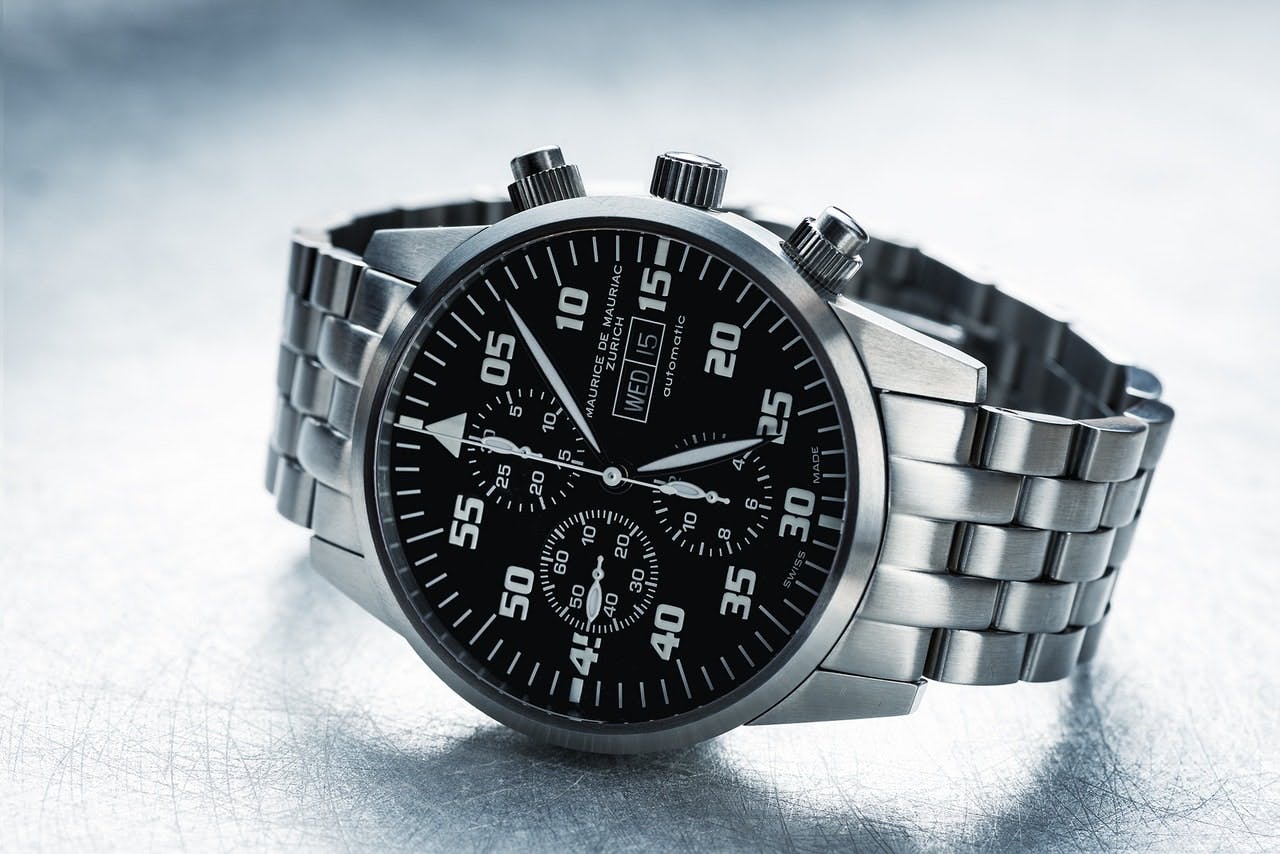 While a watch strap or bracelet serves a practical purpose to affix a watch head to your wrist, it is also integral to the design and has the ability to completely transform the appearance of the watch.
Watchbands come in many different styles and materials. Here we will run through the latter, although it is important to note that it is not an exhaustive list as designers look for evermore creative ways to give their projects unique selling points, innovation and novelty.
Leather
Leather is the most traditional choice for watch straps. Different animals produce aesthetically different leathers, which can then be tanned in different ways before being dyed different colors.
Different animals' hides age differently and choosing the very best cuts is an important job in the world of luxury watchmaking. Calfskin is exceptionally popular due to its ubiquity and legality. Other, more exotic types of leather used in the production of watch straps are crocodile, alligator, lizard, ostrich, horse, and toad (horn-backed or otherwise). Don't be surprised to come across some crazy materials like giraffe skin, beavertail, or stingray. Both make beautifully-textured bands and certainly stand out from the crowd. What's important to note is that some types of leather may be subject to governmental sanctions preventing them from crossing borders without the correct paperwork, or sometimes at all.
Rubber
Rubber straps are becoming increasingly popular. In the past, some rubber straps could just cause the wearer's wrist to sweat uncontrollably, but nowadays the quality is much improved.
Silicone, FKM, and India rubbers are all viable options for this style of strap. Rubber can be used as a standalone strap material or combined with other materials to create a hybrid look and feel.
Given its malleability and comfort, rubber is frequently also used as a backing material for leather or fabric. This enables watchmakers to offer the best of both worlds: the comfort and durability of rubber with the aesthetic benefits of leather or fabric.
Fabric
Webbing straps, normally made from nylon, are incredibly popular choices among military personnel and active wearers. These tough, utilitarian straps can transform the look of any watch in seconds and offer incredible durability.
While nylon is the most common, other fabrics are frequently employed by more eccentric watchmakers. Exotic materials such as (occasionally waxed) cotton, tweed denim, canvas, and kevlar have been used.
Stainless steel
316L stainless steel is a surgical grade hypoallergenic material that can be crafted into almost any shape imaginable. These qualities make it a popular choice for metal bracelets.
Stainless steel bracelets take many different forms, with all kinds of link systems. The most popular choices today to hold links in place include either friction-fit pins, pins and tubes, or screws. In the past, hollow or riveted links were also popular.
Rolex makes some of the most well-known stainless steel bracelets, although the brand uses 904L steel because of its higher resistance to corrosion. Rolex bracelets are almost as famous as the models themselves, with the Oyster Professional and Jubilee bracelets having dedicated fan clubs and a rich history of their own.
Titanium
Titanium is a lightweight, extremely hard, exceptionally conductive metal with a dull grey appearance. Aside from its aesthetic appeal, the conductivity of titanium makes it much warmer to the touch than stainless steel, and thus a suitable and comfortable material for a watch bracelet.
Coated metal
There are several ways to coat metal, with the goal of either changing the watch's color and appearance or increase its durability. The most popular ways of doing this are PVD (Powder Vapor Deposition), IP (Ion-Plating), and DLC (Diamond-Like Carbon). Of these three, PVD offers the most color choices but is also highly susceptible to chipping. PVD is frequently used on cheap watches to give basic metals the appearance of gold.
Meanwhile, good quality DLC increases the resistance of the underlying metal, as diamond particles are effectively bonding to the surface of the substrate. DLC coating is almost always black, although its appearance can be changed by the surface finish of the underlying material (a polished surface results in a true black, while a matte surface gives a greyer, more ceramicized look).
IP looks quite like DLC, but it wears much faster. It also has a similar limited color way that can also stretch to blues and browns. IP is a decent low-cost alternative but should be viewed as an aesthetic treatment rather than a protective one.
Ceramic
Ceramic, like titanium, is incredibly comfortable and pleasant to wear against the skin. While after-market ceramic bracelets are effectively unheard of, more and more luxury brands are exploring the material's potential.
Ceramic is occasionally applied to metal bracelets (and cases) as a coating. "Cerakote" gives a rough, utilitarian appearance, and is very popular amongst lovers of tactical tools. It looks great, but it can chip easily, which limits its appeal for some.
Rado has been using the material for bracelets for years. As such, the Swatch Group-owned brand has perhaps the largest selection of watches made entirely from this interesting material.
Cork (Vegan)
Cork is an increasingly popular alternative to leather for those who object to the use of animal products. It is a surprisingly comfortable and durable material. Additionally, its surface can be decorated by laser or micro-engraving.
With more and more brands looking to take a positive stance on environmental and social issues, it seems likely that ethically-sourced materials like cork will gain more of a foothold in the industry.